About the book
A pioneering book, Unfiltered: The CEO and the Coach, for the first time, opens the doors that normally shield the confidential world of coaching conversations. The book, through its candour, helps readers fully grasp the life-changing impact that coaching can have. Conceived as a leadership development book, the authors share the narratives (both individual and mutual) of their partnership over the course of five years. They provide unique insights and practical tips that executives and entrepreneurs will find useful for their personal development and offer an opportunity for other coaches to benchmark their own practice.
I remember the psychoanalyst Anthony Storr once saying that "originality implies being bold enough to go beyond accepted norms". The book written by Ana Lueneburger and Saurabh Mukherjea passes this test. I am happy to say so because, as an early pioneer in the coaching domain, far too many coaching books are passing my desk. Unfortunately, too many of them give me a sense of déjà vu. In comparison, it is nice to encounter a very different book that's not only truly engaging but gives the reader an in-depth view of the coaching experience. Reading this book will be a great journey, providing a wealth of insights. What's more, it may influence you more than you think.
Manfred F. R. Kets de Vries
Distinguished Clinical Professor of Leadership Development and Organizational Change, the Raoul de Vitry d'Avaucourt Chaired Professor of Leadership Development, and Emeritus, INSEAD, France and Singapore
To me, human resources is the true partnership between people and business—and coaching is a powerful element of our practice. What struck me most about Unfiltered: The CEO and the Coach was the examination of executive coaching as a partnership—a partnership that requires both sides to have an open mind and a willingness to grow. Further, Lueneburger and Mukherjea offer alternating narratives, which makes for an interesting read for any professional (HR or otherwise) who has ever wished they could read a colleague's mind! I'm a firm believer in coaches helping to drive change and inspire leaders to be more effective—and know that seasoned and newer coaches alike will surely benefit from reading this book.
Paige Ross
PhD and global head, human resources, Blackstone
The client
Saurabh Mukherjea
A must-read! There are still too many command and control leaders who will profit from this fresh, insightful book. The average manager and coach too will also gain from this insider's best-practice guide from both sides of the table. And so, in fact, will any reader who wishes to cultivate curiosity and lightness. I used to believe that management GURU stood for "Good at Understanding but Relatively Useless." But after reading this, I've changed my mind.
Gurcharan Das
Author, India Unbound, The Difficulty of Being Good: On the Subtle Art of Dharma and Kama: The Riddle of Desire, former CEO, Procter & Gamble India, and former managing director, Procter & Gamble Worldwide (Strategic Planning)
Download excerpt
Enjoy this free downloadable exerpt of Unfiltered and gain insight into Ana Luenburger and Saurabh Mukherjeathe's pioneering debut book.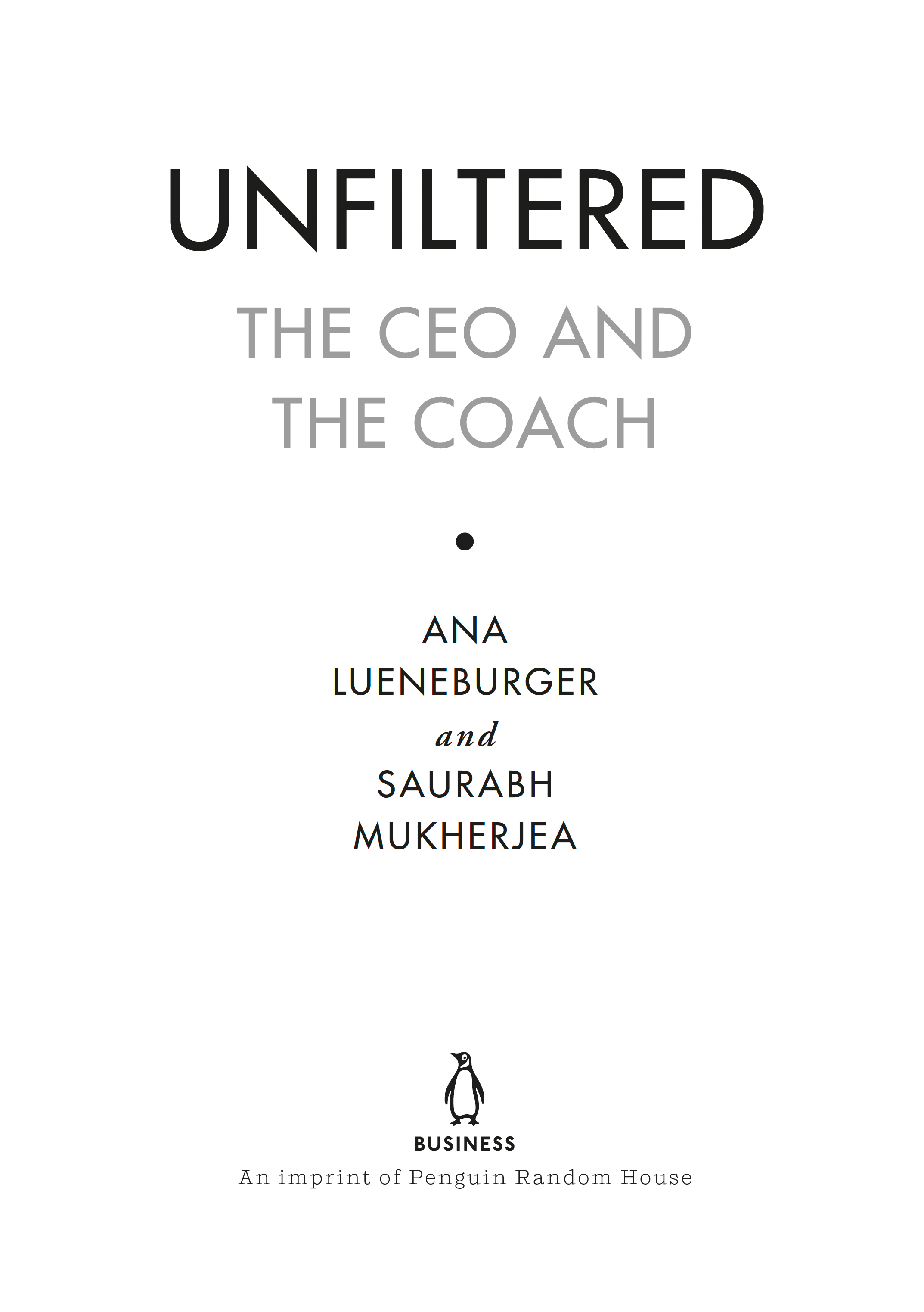 Download